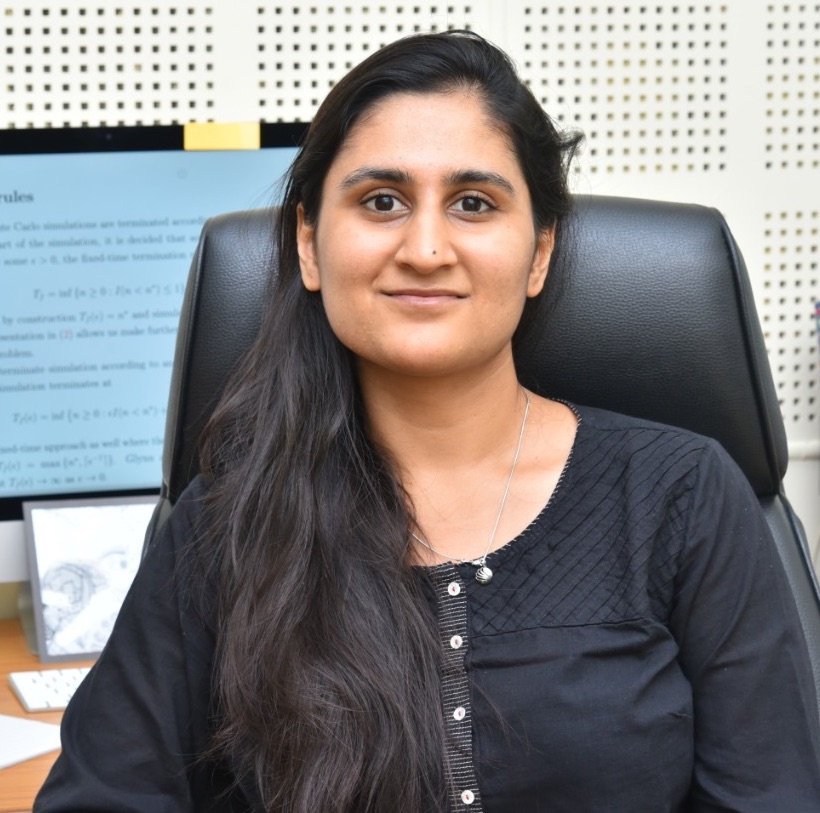 I am an Assistant Professor in the Department of Mathematics and Statistics at the Indian Institute of Technology, Kanpur. Before moving to Kanpur, I was an NSF Postdocotoral fellow with Prof. Gareth Roberts. My PhD was from the School of Statistics at the University of Minnesota, Twin-Cities working with Prof. Galin Jones.
I work in the general area of Bayesian computation and specifically focus on Markov chain Monte Carlo algorithms. My collaborators and I develop theoretically founded and practically relevant tools for MCMC output analysis (see software tab). I am also interested in the theoretical properties of Markov chain samplers including rates of convergence.
Students: If you're interesed in working with me, see students tab.
Quick links:
Upcoming Talks:
22nd Sept, Lady Shri Ram College
24-29th Oct, Fusion workshop-CIRM, Marseille, France
3rd Nov, Department of Data Science, IISER Pune
news
| | |
| --- | --- |
| Aug 22, 2022 | I am delighted and honored to join the editorial board of the Journal of Computational and Graphical Statistics (JCGS) as an Associate Editor! |
| Jul 6, 2022 | Our paper on Dimension-free mixing for high-dimensional Bayesian variable selection led by Quan Zhou has been accepted in JRSS, Series B! Co-authors: Jun Yang, Gareth Roberts, Jeffrey Rosenthal. |
| Jun 29, 2022 | I am humbled to receive the "Sushila and Kantilal Mehta award" for "motivating and encouraging students to pursue pure mathematics through their teaching and research". I thank the student body this kind honor. |
| Jun 24, 2022 | Had an absolutely wonderful time co-organizing the Summer School for Women in Math and Stat at ICTS. Blog with all the school material. |
| Jun 14, 2022 | Sanket Agrawal's work on on "Optimal Scaling of MCMC Beyond Metropolis" has been accepted for publication in the Advances in Applied Probability! Co-authors: Gareth O. Roberts and Krzysztof Łatuszyński. |